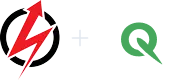 The Sales Energizer + #1 Sales Video Tool
Experience the powerful fusion of world-renowned sales training by Dan "The Deej" Jourdan and Quickpage, the premier video sales tool.
Unlock the Power of Video for Your Home Services Company
Surpass Your Competitors
With only 15% of Home Services companies harnessing the power of video, now is the perfect moment to create a lasting impact. Stand out from rivals who are stuck using dull, undistinguished methods like emails.
Boost Response Rates by 60%
Video is the ultimate bridge! As 93% of communication comprises voice inflection and body language, video rapidly establishes trust and connection, converting cold leads into enthusiastic inquiries.
Bid Farewell to Appointment No-Shows
A straightforward video confirmation can significantly enhance attendance at your appointments. More confirmed appointments naturally translate into increased sales opportunities.
Secure More Contracts
Witness an increase in successful closures - an average of 3 additional contracts per month - through the integration of video. When customers visit your website, they already feel a connection, drastically reducing the time typically spent on building rapport. Propel your sales process forward with the influential impact of video.
Unlock These Stellar Features
Quick Start, Easy Learn
Perfect even for non-techies. Get started in just minutes
Mobile Meets Desktop
User-friendly mobile app harmonizes with your desktop for smooth operation
AI Writer
Streamline Customer Responses Effortlessly
Stop Being Ghosted
Capture your customers' attention and inspire them to respond eagerly to your inquiries
Live Chat Feature
Engage in real-time conversation with built-in chat on each page
Multi-Video Power
Mix testimonials, walkthroughs, introductions, and more on one page
Voices from the field: Our Clients Speak
Consultants do their best work face to face
With Quickpage, your team can play to their strengths, and connect with leads in a personal way before they even come to the lot.
Ignite instant recognition when customers arrive, fostering a sense of familiarity and connection from the get-go.
Skip the drawn-out small talk and rapport-building process, instead, dive straight into impactful conversations that accelerate towards a sale.
Skyrocket your gross profit, transforming your business sales with a surge of financial gains.
Home Services Companies around the country are using Quickpage for
Appointment confirmations
Asking for Referral videos

Get Started Now
Individual
The Deej Exclusive Pricing
Ideal for individuals who want to scale video email and messaging.
Key features
Unlimited pages
Unlimited storage/videos
Share by email, SMS, social media and more
Get Started for Myself
Team
Managers, ready to empower your team? Fill out the form below for a 15-minute demo scheduled at your convenience.
Copyright © 2023 Quickpage. All rights reserved.